History of the AASA
A Story Rooted in Collaboration and Vision
---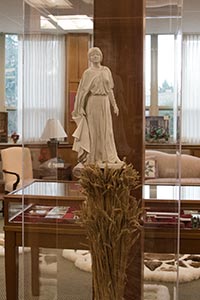 Sr. Paula, an exquisitely gifted painter and sculptor, founded the American Academy of the Sacred Arts in 1993. It had been approximately 25 years since the Vatican's call in Sacrosanctum Concilium for the establishment of schools and academies for training in sacred art, but not one had been established in the United States. Sr. Paula thought it fitting to found the AASA in Philadelphia, "the cultural cradle of the United States." Although its work began to bear fruit immediately, it would be several years before the AASA would raise the funds necessary to purchase the AASA's current home at 1629 Porter Street in Philadelphia.
Sr. Paula established the AASA not just in obedience to the Vatican's calls for training in the sacred arts but also to serve as a broker between artists who were capable and desirous of created sacred art with the institutions that wanted to acquire it. Sr. Paula found commissions for several artists, whose pieces now grace the hallways and open spaces from Ann Arbor, Michigan, to Harrisburg, Pennsylvania, to Fort Drum, New York.
Although Sr. Paula loved sacred art as much or more than anyone, she always knew that art was not an end in itself. The AASA, she wrote, promotes art for a much higher and eternal purpose: "Initiated and nurtured by the Holy Spirit, [the AASA] is a collaborative effort of artists, laity, clergy and religious to proclaim the wondrous gift of salvation in creative ways." Sr. Paula knew that sacred art could serve an invaluable role in building up the Culture of Life. She discerned that Blessed Mother had inspired her to launch the Guadalupe Project as a means to save the lives of the unborn and to convert the souls of those who might abort them.
A Vision for the Future
Although visual artists laid the foundation for the AASA, writers, composers, poets, architects, and actors are contained in its vision. We anticipate that eventually we will relocate from our current home (at 1629 Porter Street in Philadelphia PA) into a larger space that will attract creative artists who have a similar calling to the sacred arts. The future facility would be a place for artists to grow spiritually, support each other, learn their craft, and exhibit and sell their work. It would also function as a gallery, containing performance, exhibit, and conference space.
Upcoming Events
Exhibition and Sale of the Works of Internationally Acclaimed Artist
Niko Chocheli
Saturday, Feb. 23, from 12:00 noon to 6:00 p.m.
Presentation by the artist at 2:00 p.m.
Admission is free, but space is limited.
Read more
Donate
There has never been a greater need for sacred artists than the present era. Help support the work of AASA, serving sacred artists and patrons for the greater glory of God.
"Art is a vehicle for expressing the infinite beauty of God."

- Sr. Paula