Sr. Paula's Artwork
Explore the artistic creations of our founder, Sister Paula
---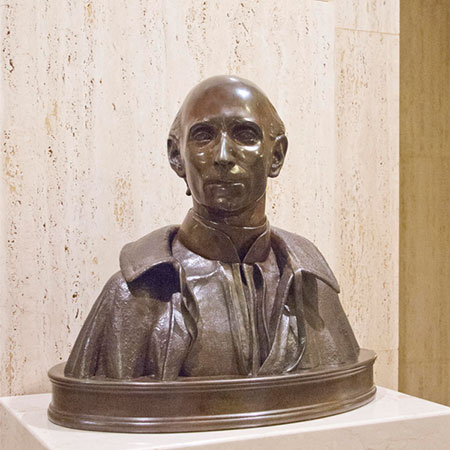 St. Vincent Pallotti (b. 1795, Rome, Italy)
The Pallottine Fathers commissioned this piece. The original is now displayed in the National Shrine of the Immaculate Conception, the largest Catholic Cathedral Basilica in the United States.
---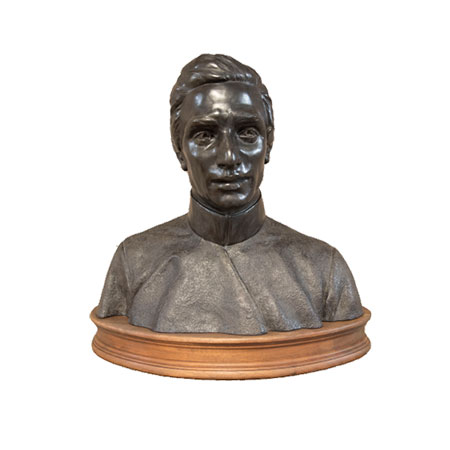 Fr. Louis Florent Gillet (b. 1813, Antwerp, Belgium)
Fr. Gillet was Redemptorist priest who founded Sr. Paula's order, Congregation of the Sisters, Servants of the Immaculate Heart of Mary (IHM)

---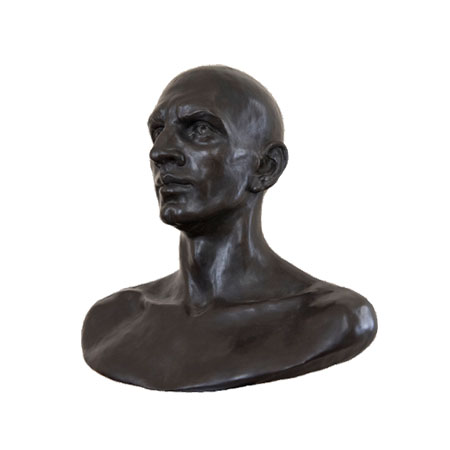 Jeremiah the Prophet
Shortly after Sr. Paula completed this piece, someone complained to her that it "doesn't look anything like Jeremiah." Sr. Paula responded by noting that there are no historical images of the prophet but that we do know this much about him: He was an Egyptian; he was of high standing (and thus that he would have had a shaved head); and he delivered stormy messages. Sr. Paula then asked her critic to look at the sculpture again and consider whether it could be an Egyptian of high standing who delivered stormy messages. Graciously or night, the critic conceded the point.
---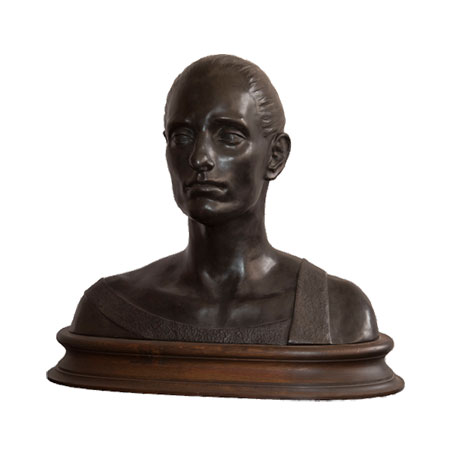 Barbara
Barbara's last name is unknown. She was one of several people of modest financial means who served as models, for money, for students of the PAFA. Sr. Paula recalled that Barbara's troubles were not just financial. But Sr. Paula thought she had striking features, and Sr. Paula delighted in capturing them. She recalls that Barbara's brother, in particular, loved the finish piece.
---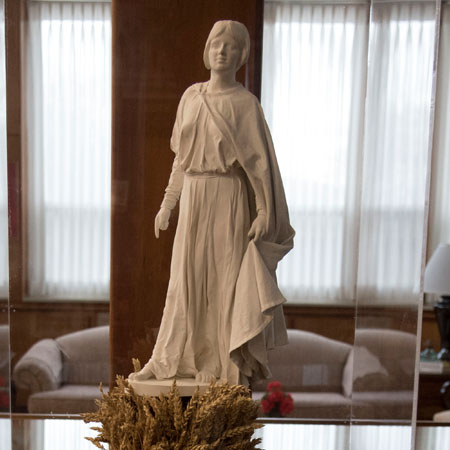 The Handmaid
In The Handmaid, a 62-inch sculpture, Sr. Paula depicts the Virgin Mary, distracted by a breeze, seconds before the Archangel Gabriel speaks to her of the Messiah. It inspired by this verse by Sr. Maria Corona Crumback, I.H.M. (June 11, 1915 – August 11, 2008)
Is this the way it was —
The ageless salvation gift's announcing
Sculpted in a moment of time?
Strangely different, touching, haunting,
Earthily commonplace, sublimely graced.
She stands — a humble toiler
Strong, queenly, poised.
Head turned, still with the surprise
At the breath of angel voice.
Eyes and mouth resolute
Yet mellowed warm and with winsome tenderness.
Budding breasts revealing her readiness for birth.
Cloak and girdled-gown, their wind-brushed flowing
Clasped in a hand that would let
No hindrance to the message,
Even here where she toils gathering wheat.
Feet firmly resting on God's good earth
Yearning in wait for its savior.
A total, human woman:
"How can this be . . . ?"
A total, open servant:
"Be it done unto me . . . ."
The wait is over
And WORD becomes flesh.
This Yahweh-woman
Stands forever on wheat;
Totally His, handmaid and mother,
Yet, gift to His people,
One of your own.
Upcoming Events
Exhibition and Sale of the Works of Internationally Acclaimed Artist
Niko Chocheli
Saturday, Feb. 23, from 12:00 noon to 6:00 p.m.
Presentation by the artist at 2:00 p.m.
Admission is free, but space is limited.
Read more
Donate
There has never been a greater need for sacred artists than the present era. Help support the work of AASA, serving sacred artists and patrons for the greater glory of God.
"Art is a vehicle for expressing the infinite beauty of God."

- Sr. Paula