American Academy of the Sacred Arts
"Schools or academies of sacred art should be founded in those parts of the world where they would be useful, so that artists and craftsman may be trained."
Sacrosanctum Concilium, Constitution on Sacred Liturgy, Article 127
Art Auction and Sale
Saturday, April 22, 1:30-6:00
View the artwork, read about the artists, and get other details about the event here:
Location:
Bayada Atrium of the Mirenda Center
Neumann University
One Neumann Drive
Aston, Pennsylvania
Glorifying God by Elevating the Talents of Sacred Artists.
The American Academy of the Sacred Arts was founded in 1993 by Sr. M. Paula Beierschmitt, I.H.M. as America's first academy of sacred art. It was inspired by Saint John Paul II's call (in his "Letter to Artists") that artists in every genre and with every medium use their gifts to glorify God and inspire the human family.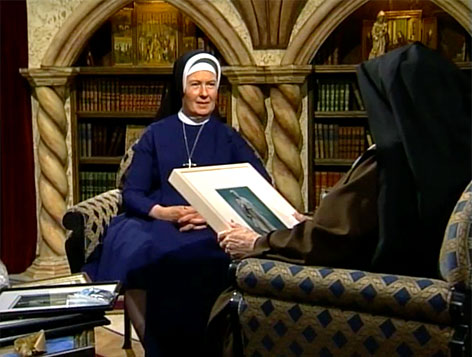 Are you a sacred artist seeking a commissioned project?
Are you a person or group seeking to commission a sacred artist?
Inspired by the Blessed Mother, Pope Francis prays before a sculpture of Our Lady of Guadalupe, commissioned by the American Academy of the Sacred Arts.
"The Holy Father wanted to honor the Blessed Mother before he vested for Mass on Saturday at the Cathedral. His assistants brought with them a bouquet of roses. After the Holy Father entered the Basilica, I was asked to direct him to a shrine of Our Lady and so I lead him to the statue of Our Lady of Guadalupe. He placed the flowers before the statue and we prayed for a few moments asking the help of our Blessed Mother. I especially remembered Sr. Mary Paula."
– Reverend Gerald Dennis Gill,
Director of the Office of Divine Worship, Archdiocese of Philadelphia
Upcoming Events
Saturday, April 22, 2017
Art Auction at Neumann University
Donate
There has never been a greater need for sacred artists than the present era. Help support the work of AASA, serving sacred artists and patrons for the greater glory of God.
"Art is a vehicle for expressing the infinite beauty of God."

- Sr. Paula